Mother Bird Feeding Babies Quilling Card
Hurry, only 1 item left in stock!
Delivery & Pickup Info

Within 2km of the shop, delivery is $10; for other parts of the city $14. There are extra charges for any delivery outside a 12km radius from the shop.

Please call or email the shop to confirm for extra long distances. 

Same day pickup is available for orders placed before 2:00, call us for a quicker pickup time and we will do our best to accommodate.

Pickup is available at our location at 1099 Corydon Ave, Winnipeg, MB.

Monday to Friday 10:00 AM - 5:00 PM
Saturday 10:00 AM - 2:00 PM

Closed Sundays and Holidays.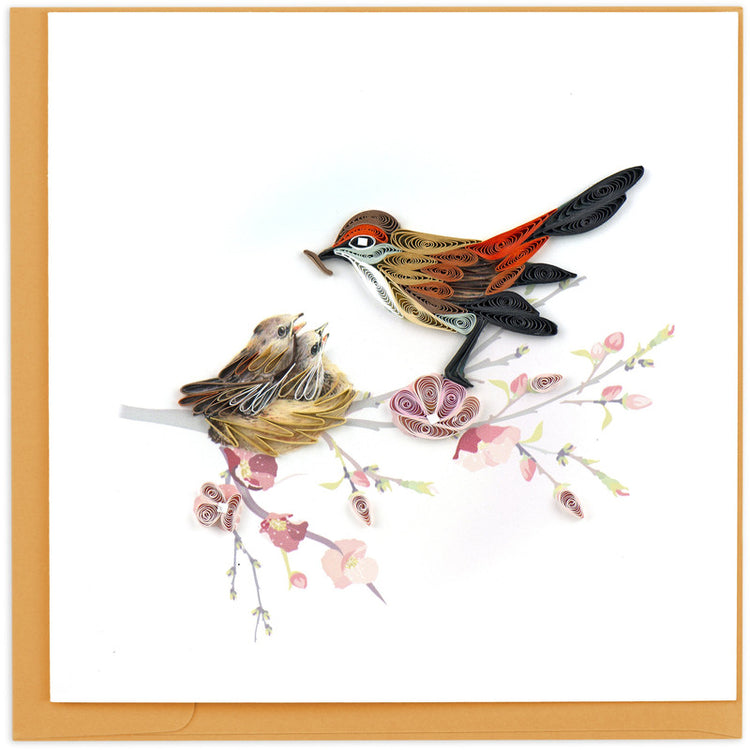 Product Details
Quilling Card has been incredibly fortunate to train and employ over 450 quillers who
handcraft each of our designs in Ho Chi Minh City, Vietnam. In 2015, Quilling Card was honored
to become a certified member of the Fair Trade Federation (FTF). The FTF focuses on
maintaining a code of values for proper treatment of employees and they encourage
ethically responsible business practices all over the world.
Many of the artists which Quilling Card employs come from the surrounding rural areas
of Ho Chi Minh City. Most have had only limited access to education making it difficult to
find employment that offers sustainable wages and essential benefits. At Quilling Card we
offer training to learn the art of quilling, employment advancement opportunities, full benefits,
and wages that are 20%-25% above the national average. This gives men and women the
chance to adequately provide for themselves and their families while building a career — an
opportunity that can be hard to come by.
The transparency of our business practices and our membership with the FTF reassures
our consumers they are buying a product that is free from any negative stigmas commonly
associated with items that are handmade overseas. The cumulative passion we all have for this
lost art is truly the driving force behind Quilling Card.